How was a company born?
How can we summarize, in a few lines, what it was that gave birth to an entrepreneurial idea?
Too often, when a company is presented, its history tends to be reduced to that of the entrepreneur who founded it. It is certainly true that a company could not exist if it had not been for an enlightened founder to give shape to an inspiration. But the story of Scatolificio Saico is also something else, it is the story of women and men of a beautiful Umbrian village, Montone in the province of Perugia, who since the early 1970s believed in the idea of ​​Renato Polveroni, a young and whimsical surveyor with so many boxes to build on his head.
It was exactly in 1971 that Renato founded his company (his best birthday will be in 2021, 50 years since its foundation!).
At the beginning it was a craft activity, carried out by his wife and 3 employees at some premises made available by the town's parish.
But Renato's gaze sees far and the first major investment, 6 million lire, to build a 1200 sq m shed is decided. at the nearby nascent industrial area.
The legacy
Saico box factory immediately established itself as an important reality, both for the employment opportunities it offers to local young people, and for the role it assumes locally in the production of corrugated cardboard packaging. These were the years that followed the economic boom and the demand for quality packaging, responding to the different demands of the various product sectors, grew strongly. The nearby town of Montone gathers around the young entrepreneur. The employees feel like a big family and in a short time the company grows and specializes in production. Expansions and improvements are punctually made, as well as the production lines are subject to continuous modernization.
Today, the future imagined by that young entrepreneur is in the hands of his daughter Francesca Polveroni, who together with her husband Stefano Bei, her son Luca and a talented group of collaborators, has been able to consolidate the company and give the right push to bring it to compete with the main national competitors.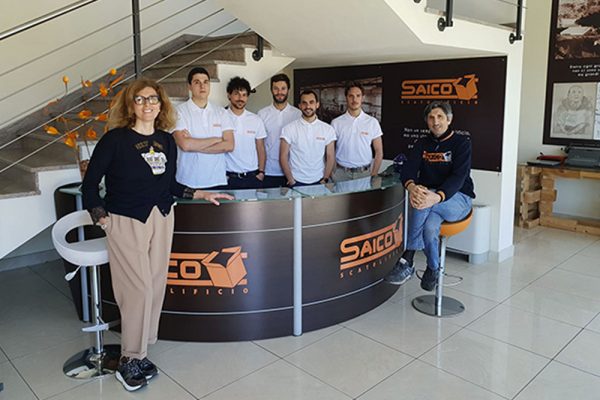 Today, Saico box factory is an important industrial reality in Umbria, which caters to the entire national market, has a commercial office in Emilia-Romagna and boasts a fleet of vehicles owned by a total of 9 trucks, which guarantee logistics completely autonomous.
Saico currently employs 40 people, and in 2019 it had a turnover of 9.7 million. euros, an increase of 15.3% compared to 2018. The new 6700 m2 plant, built in 2004 in the nearby industrial area of ​​Coldipozzo, is a pulsating "organism", completely automated and innovated in all stages of processing.
SAICO, today
The 3 brand new casemaker lines (including a fully automated Emba), capable of producing boxes of all sizes, have brought a marked improvement in terms of product quality and further speed of service.
These are what dictate the pace of activities. The machine park also includes 2 rotary die-cutting lines plus 1 line dedicated to micro-runs and a cutting plotter, useful for customer samples.
At the end of the work cycle, a fully automated end-of-line system, which replaced the old manual method of palletizing and handling the packages ready to be shipped.
We deliver to our customers directly, wherever they are. The times, from order to distribution, are therefore significantly reduced.